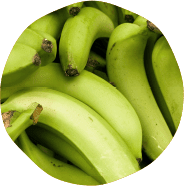 Prebiotic Powerhouse
Beneath rich, chocolatey decadence are science-backed ingredients carefully selected for being rich in prebiotic fiber, resistant starch, and polyphenols. Because when your gut biome thrives, you do, too.
TASTES AMAZING
Naturally sweet but low in sugar, HFB is packed with decadent dark chocolate, satisfying blanched almonds, and flaky coconut. Your gut will know it's healthy, but your mouth will think it's dessert.
As Seen In "The Plant Paradox"
HFB made the extremely short "yes, please" list of Dr. Gundry's New York Times bestselling book in 2017. Our updated formula is even better than the original.
My go-to bar for gut health
As a nutritionist who specializes in gut health, this is my go-to bar personally, and the only bar I ever recommend to my clients.
- KRISTINA MITTS, dietitian
Get your resistant starch on!
HFB is a delicious inconvenient way to get more resistant starch in your diet, which is a problem 100% of my clients face.
- Erika Jacobson, Dietician
Microbiome booster
No other bar) has a microbiome boosting ingredients like this. HFB is a delicious way to level up your gut health!
- JILLIAN Smith, dietitian
SUPER. HUMAN.
Here's how Human Food Bar stack up against other gut popular bars. Is Human Food Bar for you if you're keto, paleo, vegan, or even lectin-free? Yes, yes, yes, and yes. Is it for you if you hate flavor? Definitely not.
GUT REACTIONS
"I am ecstatic that there is finally a compelling Plant Paradox-friendly snack/protein bar. My go-to has been Quest, but you have to seek out the ones that do not contain sucralose, and even then, they're nothing to get excited about!"
- Susi, Pasadena
"These are the best tasting low-carb bars I've ever had. Finally, a bar that I can eat without feeling guilty, that I actually want to eat! The health benefits are a huge bonus. Filling my snack drawer!"
- Ryan, Mill Valley
"THESE BARS ARE THE BEST! Was honestly blown away by the macros and nutrition facts. I have NO IDEA how you made it taste this good, especially compared to other comparable bars. Awesome!"
- Laura, Portland
"Tastes amazing! I love the fudgy flavor with hints of "buttery" nuttiness. It's almost like a cross between a soft tootsie roll and a fudgy, nutty brownie... and yet it's incredibly healthy. How did you do this??"
- ALEX. New York
" The bar tastes great but what really sets it apart are the ingredients. I can't believe how much prebiotic fiber and resistant starch there is! No other bar supports gut and metabolic health like Human Food Bar. I feel great about incorporating it into my daily routine!"
- Gail, Woodstock
"All I know is it tastes great!"
- Hunter, Berkeley